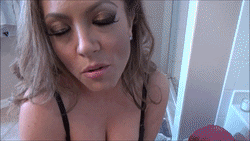 Part 1 – The Secret Request
Baby, calm down. I'm not mad you're jerking off with my panties. It's actually a very good thing… Mommy wants to tell you a secret… You know how your Father and I have been trying to make you a little brother? Well so far it hasn't been going so great… But I think I know a way you can help….
Part 2 – Daddy Doesn't Need to Know
You've been doing so good baby… And you listen to Mommy so well… I'm sure I'll be pregnant in no time. But you have to keep helping Mommy to make sure it works… And of course your Father still doesn't need to know, and he also doesn't need to know how much bigger your dick is than his… It's much more fun to have secrets don't you think son?
File Size : 1320.69 MB, Resolution : 1280×720, Duration : 00:20:38